Kathryn introduces THE MEMORY BOX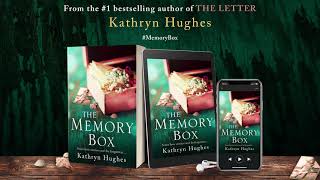 I am so excited to be sharing the news that my fifth book, The Memory Box will soon be published in August 2021.  It feels like I have been writing this book for half my life.  I began in 2018 and was fortunate enough to be able to squeeze in a research trip to Italy before the awful pandemic started to affect all our lives in ways we couldn't have imagined.
The Memory Box tells the story of Jenny Tanner, who we first meet at her one-hundredth birthday party. As she gazes around the plush surroundings of her care home, she realises she has outlived everybody who ever mattered to her. In telling her story to Candice, the young girl who cares for her and has become her confidante, Jenny resolves to visit Italy one last time. She knows it will be painful but there's something she has to do.  And she cannot do it with Candice's help.
Jenny was a lovely character to write. She's feisty, bold and sharp-witted but also has a softer side and proves to be an invaluable friend to Candice, imparting her wisdom on the young girl as she shares her own life experience.
My fictional fishing village of Cinque Alberi was based on Camogli, a little town on the Ligurian coast.  My husband and I visited the area and spent time in Camogli, sampling the local cuisine, hiking up the forested mountains, dipping our toes in the sparkling surf and partaking of the various wines and cocktails on offer.  All in the name of research of course!
I really hope you enjoy the story of Jenny and Candice, two gorgeous women with more in common than they thought.